Screw Piles
Screw piles, also known as helical piles are fabricated using hollow steel shafts with helical flights of various sizes designed to suit the site-specific ground conditions.
They are a sacrificial pile installed to the predetermined depth by rotating the steel shafts with a high torque rotary which is attached to a rig or excavator. The length of the shaft is increased by use of a fitting or welding additional sections to reach the required pile depth. After the target depth is reached or torque requirements are met the hollow steel shafts are then filled with concrete or grout.
Helix design along the shaft allows for soil displacement during installation, which is beneficial given no spoil removal is required.
Due to low ground disturbance during installation, screwpiles are suitable for use in ground that can be subject to collapse as well as in contaminated ground where minimisation of ground disturbance is critical.
Screw piles are also ideal for use in established urban areas when neighbouring buildings are in close proximity, given the low noise and vibration installation.
Initially a detailed geotechnical report is required to ensure correct design and torque requirements. Pile testing can be carried out after installation to confirm required loadings/specifications have been met.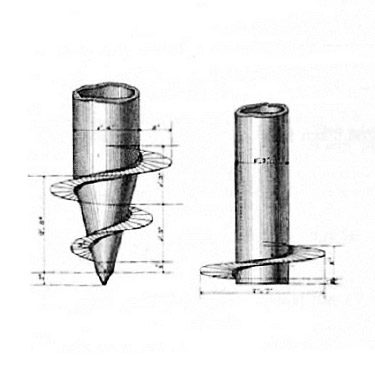 Common Applications
Building foundations
Structural foundations
Environmentally sensitive sites
Underpinning existing foundations
Permanent or temporary applications
Residential and commercial projects